The NSF project entitled: Collaborative Research: Development and Validation of A Resilience-based Seismic Design Methodology for Tall Wood Buildings is currently conducting a 0.625-scale seismic test using the NHERI Lehigh Experimental Facility at the Advanced Technology for Large Structural Systems (ATLSS) Engineering Research Center to investigate the behavior of SC-CLT walls and their interaction with a CLT floor diaphragm and glulam gravity load system under multi-directional lateral loading.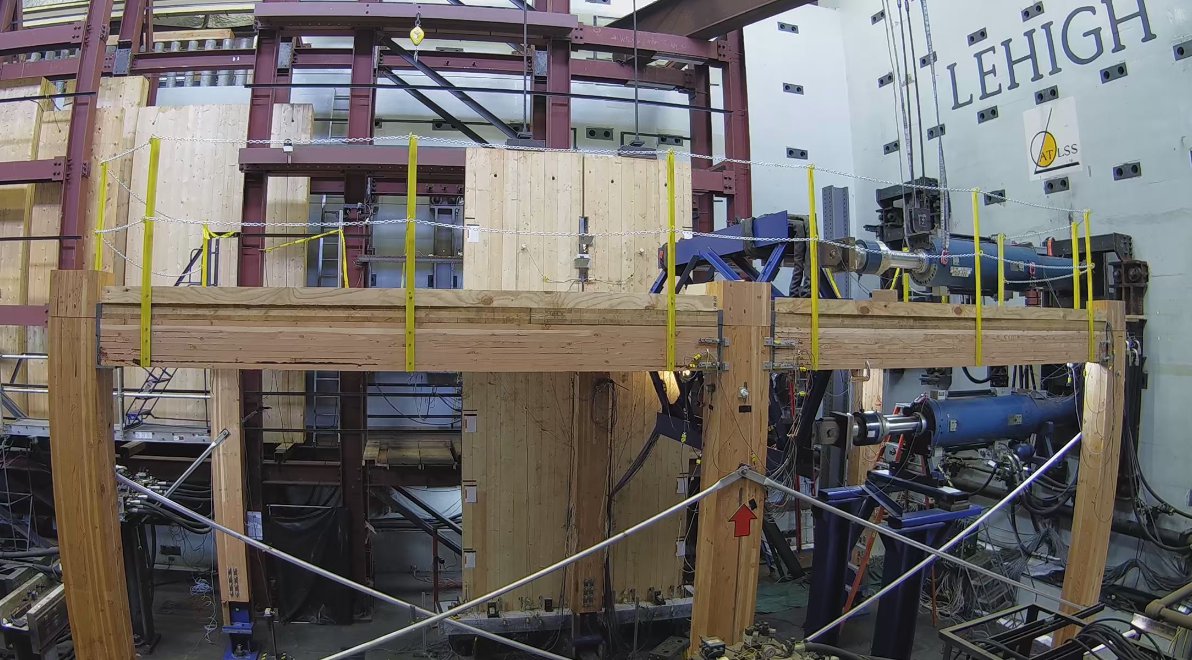 Conventional cross-laminated timber (CLT) construction can deliver collapse prevention performance but with the potential for significant damage during large earthquakes. A seismically resilient structural system for tall wood buildings can be achieved using self-centering (SC) rocking post-tensioned CLT structural walls (SC-CLT walls). Deformation and extent of damage in other building components that do not rock i.e., floor diaphragm, collector beams, gravity load system and non-structural walls need to be considered under lateral loading.
Lehigh University is collaborating with the NHERI Tallwood team, with the support from Smartlam, Western Structures, Simpson Strong-Tie, Kpff and Lever Architecture to gather data for developing a resilience-based seismic design methodology for tall wood buildings, which will eventually lead to a validation test of a full-scale 10-story tall wood building at NHERI@UCSD in 2020.
The current test is the first phase of the experimental program led by Lehigh University which focuses on the investigation of the limit states of coupled SC-CLT wall under in-plane quasi-static lateral loading. The collector-beam-to-CLT-wall connection do not transfer vertical forces to the walls and relative displacements between collector beams and SC-CLT wall, that might affect the behavior of the SC-CLT wall under lateral loading, are free to occur.
Testing takes place Monday, June 10 and Tuesday June 11. Below is the Live Stream.
https://www.youtube.com/watch?v=GnvHOIW6dpw
Please note that due to the investigative nature of the test, testing time may be adjusted during the day without prior notice.
If you have any questions, please contact:
James Ricles (Principal Investigator), jmr5@lehigh.edu
Richard Sause (Co- Principal Investigator), rsause@lehigh.edu